Does Fossella support Bush's troop surge?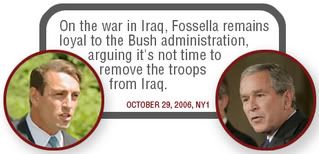 "A group of New York grandmothers who continually protest the war through demonstrations, vigils and media blitzes plans to lobby every U.S. senator today to condemn President Bush's decision to send 21,500 more American troops into Iraq to quell sectarian violence.

SNIP

Rep. Vito Fossella (R-Staten Island/Brooklyn) did not return calls to discuss his stance yesterday. Fossella, who voted to authorize the war in 2002, sidestepped questions on whether he supports the increase after the president's announcement last week. He spoke in generalities, calling the plan an indication "of what's necessary in order to bring about a stable, peaceful Iraq that's in the best interest of the United States." (via Marc Parent)"

UPDATE 1
Thing Progress
has 415 members of Congress on record on this issue with Rep. Fossella "refusing to answer"
UPDATE 2
31 Republicans in the House and Senate outright oppose the President's plan, with 19 leaning towards opposing it.