Petitioning for Manny Innamorato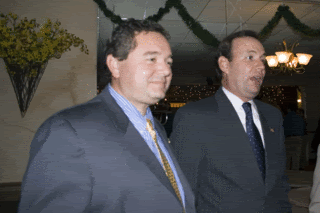 Manny Innamorato and Assemblyman Cusick
Petitioning for the Special Election for the 51st City Council District started on Wednesday, and we have less than two weeks to gather the 3,000 signatures the campaign needs. Manny Innamorato needs your help this weekend! The weather is unseasonably mild, which means it is perfect for petitioning.
Manny's campaign office is located at
166 Scranton Avenue
, SIDE DOOR (entrance is on Lovelace Avenue). This is near Richmond Avenue in Eltingville. Call Jason at Manny's office at 917-750-4206. Email is info@mannyforcouncil.com, and the website is
www.mannyforcouncil.com
.
This is Lanza's former seat, so we don't want to replace him with another Republican. It will probably be warmer this weekend than it was on election day, so consider it practice for petitioning for the '08 Congressional race.