High gas prices fund Exxon donations to Fossella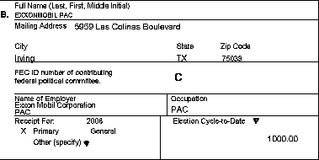 This is not a donation for renewable energy legislation, mass transit solutions for Staten Island or asthma and respiratory health care brought on by air pollution.
This is a donation from ExxonMobil to encourage
Rep. Vito Fossella
to continue to vote to stay in Iraq. The more oil potential Exxon receives the more they can line their pockets and make you, the consumer pay for donations like these at the pump.

Follow along on what stories we are working on with updates from
Twitter
.
Labels: donations, Exxon, oil, Rep. Vito Fossella