Potential candidates: Assemblyman Mike Cusick
The following is the second part of a series on potential candidates for this Congressional seat. Currently only one candidate has declared, Steve Harrison.
Mike Cusick
is a State Assembly member representing the 63rd Assembly District covering mid island of Staten Island. His district is overlapped on the congressional district (green below);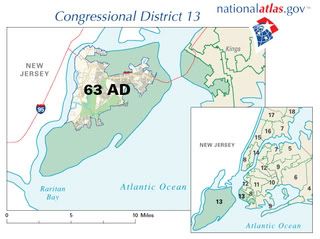 From his Assembly
bio
;

Prior to his election, Cusick served as Director of Constituent Services for U.S. Senator Charles E. Schumer.

snip

He was instrumental in researching and developing statewide legislation, including the law to close the Fresh Kills Landfill.

Assemblymember Cusick was first elected to the Assembly in 2002 and has won re-election in 2004 and 2006. He is up for re-election this November.
2006
Cusick (D, I, C, WFP): 62% (13,086)
Grossman (R): 38% (5,775)
Congressional totals in the 63 AD
Harrison (D, WFP): 44% (8,547)
Vito (R, I, C): 56% (11,215)
Why he could be the nominee
Cusick represents the mid-island which separates the very Democratic North Shore from the very Republican South Shore. He has a large amount of bi-partisan appeal, needed to hold this seat. In 2006 he was endorsed by both the Independence and Conservative Parties who had endorsed Rep. Fossella in the congressional race. While Rep. Fossella won this Assembly District in his 2006 Congressional run, Cusick managed to get even more voters than Fossella in his down ballot race.
Rep. Anthony Weiner has publicly stated his support for Cusick and his desire that he run for this seat. While Weiner's seat is in Queens and not in this district he is considered a top tier mayoral candidate which may give his 'endorsement' additional weight and resources.
His previous boss was Sen. Schumer. Schumer could provide access to his donors, although he offered very little to Harrison after his endorsement in 2006.
The DCCC has been apparently dropping his name as someone of interest. As far back as 2005 the
DCCC had been trying to recruit him
.
Why he might not be the nominee
Cusick has been on everyone's short list for at least the 2006 and 2008 congressional race yet has passed on both opportunities. He has what appears to be a seat in the Assembly for as long as he wants it and would have to give that up if he ran for Congress in a general election.
If he gives up his Assembly seat it will not be as easy for Democrats to hold as Savino's senate seat or McMahon's city council seat. That said the Democrats hold a 2:1 advantage in the Assembly so this would be a minor loss for the state party.
He would start a congressional campaign with no money. [updated]
up next: City Council member Mike McMahon
see also:
Potential candidates: Sen. Diane Savino
Labels: Chuck Schumer, Mike Cusick