Potential Candidates: City Council Member Mike McMahon
The following is the third part of a series on potential candidates for this Congressional seat. Currently only one candidate has declared, Steve Harrison.
Mike McMahon
is a member of the New York City Council, representing the north shore of Staten Island including the neighborhoods of; Rosebank, Westerleigh, New Brighton, West Brighton, Mariners Harbor, Stapleton, St. George, Park Hill, Port Richmond, Clifton, Arlington, Grymes Hill and Dongan Hills. His district is overlapped on the congressional district (green below);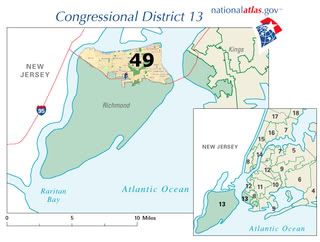 McMahon was first elected in 2001, has won re-election in 2005 and will be term limited out of office in 2009.
2005
Mike McMahon (D, WFP, C): 70%
Jody Hall (R): 30%
Why he could be the nominee
McMahon chairs the Sanitation Committee which is extremely influential in Staten Island with its history as a waste transfer and landfill end point at Great Kills. His leadership on the issue would be a strong campaigning point.
The DCCC has been apparently dropping his name as someone of interest. As far back as 2005 the
DCCC had been trying to recruit him
.
The somewhat corresponding 60th Assembly District was carried by Harrison with 57% and Barbaro with 54%. If McMahon could carry it with his 70% he could gain anywhere from 3,000-7,000 additional votes depending on turnout. That could amount to a 2-3% increase based on 2006 results.
Why he might not be the nominee
McMahon is a partner in the law firm of O'Leary, McMahon and Spero. In his current role as a member of city council he is able to continue practicing law and earning income from his law firm. He would have to give this up if he were elected to Congress. The base city council salary is $112,000 whereas the base congressional salary is around $175,000. This difference may be enough to allow him to give up the law firm and afford to raise a family in New York City.
His wife Judith Novellino McMahon is currently serving as a Civil Court judge and is
running for the state Supreme Court
in this fall. Mike McMahon has indicated he intends to actively campaign for his wife which may be difficult if he is involved in a Congressional race. The two also have two children. The prospects of his wife obtaining a higher judicial role and him splitting time between DC and Staten Island may not be enticing for their family.
McMahon has often been mentioned as a likely candidate for the Staten Island Borough Presidency race in 2009. This would allow him to stay home yet continue his political involvement in the district and is possibly more appealing than DC.
He would start a congressional campaign with no money.
see also:
Potential candidates: Sen. Diane Savino
Potential candidates: Assembly member Mike Cusick
Labels: Mike McMahon