Fossella's ski partner Rep. Ney gets 30 months in prison
via
MSNBC
;

Former Ohio Republican Representative Bob Ney, the only member of Congress to be criminally charged in the Jack Abramoff-lobbying scandal, was sentenced today to 30 months in prison and fined $6,000 by U.S. District Judge Ellen S. Huvelle.

The Justice Department had asked for a term of 27 months in prison. The sentence was harsher than recommended by prosecutors or Ney's lawyers, Huvelle said, because Ney had violated the trust place on him as a public official. "Both your constituents and the public trusted you to represent them honestly," she said.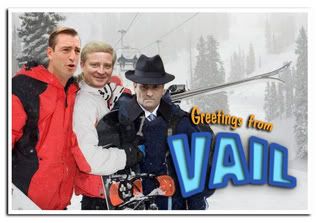 Of course we know former Rep. Bob Ney (R-OH), he is the one in the middle, from the lavish lobbyist events he held in Vail Colorado, which
Rep. Vito Fossella
had attended from 2001-2006. With this prison sentence we are saddened at the reality that Rep. Fossella will have no one to ski with this year. We recommend he gets in touch with former Rep. Sweeney from upstate who has some connections with ski resorts in
Lake Placid
.