Bush Aide condemns President on Iraq
Matthew Dowd
, President Bush's chief campaign strategist spoke with the
NY Times
, and had some rather harsh criticisms of the President's leadership abilities.

He criticized the president as failing to call the nation to a shared sense of sacrifice at a time of war, failing to reach across the political divide to build consensus and ignoring the will of the people on Iraq. He said he believed the president had not moved aggressively enough to hold anyone accountable for the abuses at Abu Ghraib prison in Iraq, and that Mr. Bush still approached governing with a "my way or the highway" mentality reinforced by a shrinking circle of trusted aides.

"I really like him, which is probably why I'm so disappointed in things," he said. He added, "I think he's become more, in my view, secluded and bubbled in."

In speaking out, Mr. Dowd became the first member of Mr. Bush's inner circle to break so publicly with him.

He said his decision to step forward had not come easily. But, he said, his disappointment in Mr. Bush's presidency is so great that he feels a sense of duty to go public given his role in helping Mr. Bush gain and keep power.

Dowd, a senior advisor to the RNC in 2002, is the highest Republican aide to come out against Bush. Fortunately for us,
Rep. Vito Fossella
is standing strong behind President Bush and all of his decisions.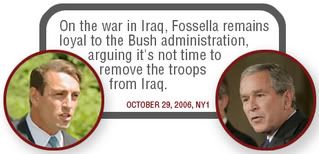 Labels: Iraq, President Bush