Fossella on talking a big game
The
Courier Life
carries a story about
Rep. Vito Fossella
at the local VA hospital in Brooklyn, where he tries to save face for his party and highlight the success of the hospital in the wake of the scandal and failures at Walter Reed. Fossella is constantly talking about '
supporting the troops
' which is code for letting them go to war, not providing support. Despite this he occasionally has some wonderful sound bites like this from the article:

Those who are being treated at Walter Reed, Fossella stressed, "Stepped up to the plate to sacrifice themselves for this country and for others, and, the way I look at it, they deserve the very best, and, by and large, they get the very best."

Of course the very best does not include Tricare health care, because as we know Vito voted against expanding Tricare coverage for all Reservists and National Guard members.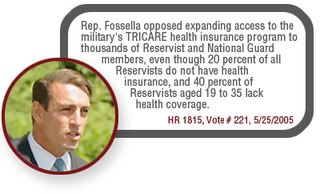 Labels: Rep. Vito Fossella, tricare, troops