Fossella continues to ignore Iraq
While Steve Harrison and Domenic Recchia have promised to make Iraq a key campaign issue, Vito Fossella is again going to try to ignore it and talk about taxes. While the public is overwhelming opposed to the war many are finding news and discussion hard to come by. via the
Washington Post
;

Twenty-eight percent of the public is aware that nearly 4,000 U.S. personnel have died in Iraq over the past five years, while nearly half thinks the death tally is 3,000 or fewer and 23 percent think it is higher, according to an opinion survey released yesterday.

The survey, by the Pew Research Center for the People and the Press, found that public awareness of developments in the Iraq war has dropped precipitously since last summer, as the news media have paid less attention to the conflict. In earlier surveys, about half of those asked about the death tally responded correctly.

Related Pew surveys have found that the number of news stories devoted to the war has sharply declined this year, along with professed public interest. "Coverage of the war has been virtually absent," said Pew survey research director Scott Keeter, totaling about 1 percent of the news hole between Feb. 17 and 23.

Even Fossella's perception about Iraq is off, he doesn't even think it is important to talk about. Want to know Fossella's stance on any Iraq issues? Well you will have a hard time finding answers because not only is Iraq not an "issue" on
his issues page
on his campaign site but he doesn't even mention Iraq once anywhere;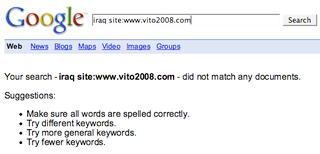 Here is
Steve Harrison's Iraq issue page
.
Labels: Iraq, Rep. Vito Fossella, Stephen Harrison, troops