Bush and Fossella flying around together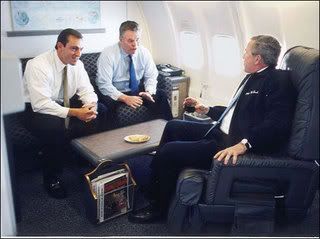 Remember this when Rep. Vito Fossella tells us he is independent. Remember this when he rolls out his one time he disagrees with Bush and claims he is above partisanship. Via Tom's
polit.bureau

Bush was flying back to Washington, D.C., from New York last week with Fossella's nephew, Rep. Vito Fossella (R-Staten Island/Brooklyn), when the congressman told him that his uncle was a little under the weather.

That picture is one of the many other times Fossella has flown around with Bush on Air Force One, not this time around, although for visual reference I have to believe it is close enough. We can only imagine that
Rep. Vito Fossella
is chiding the President for threatening to veto the Congressional bill funding troop training, equipment and plans to bring them home safely. Who in their right mind
vetoes troop safety
?
Labels: Air Force One, President Bush, Rep. Vito Fossella